Grammarly and QuillBot
At least 50% off from FlexSub
Subscribe Now
You must be an experienced and professional writer if you want to write flawless content with no grammatical errors. What if I told you that it's not true?
Yes, using AI-powered software such as Quillbot and Grammarly, you can create error-free content with zero mistakes.
The use of AI in Quillbot and Grammarly will improve workflow by generating features such as paraphrasing, proofreading, and punctuation.
I used both Quillbot and Grammarly, and the results were excellent.
The writing experience in Quillbot and Grammarly was flawless, thanks to features such as a summarizer tool, plagiarism checker, and tone detection, so I wrote a comparison review.
In this article, you will learn everything there is to know about Quillbot vs Grammarly, including the best features of Quillbot and Grammarly, their suitability, and their pricing plans. Finally, this article will assist you in making the best decision possible!
Quillbot vs Grammarly (Overview)
When you have to develop perfect grammar content with zero errors and mistakes on a regular basis, writing can be a tedious process. Who, after all, thinks grammatically correct all the time?
Not me, at any rate. There have been times when I would write something in my casual English that was grammatically incorrect when written, but it felt right in my head.
Have you ever been in a situation like this? So, let's take a look at Quillbot and Grammarly, two excellent AI-powered grammar and writing tools that will help you improve your writing.
Let me give you a quick rundown of Quillbot and Grammarly so you can get to know these bad boys!
What is Quillbot?
Quillbot is well-known for its captivating paraphrasing capability, in which an incorrect sentence is detected and transformed into a well-written grammatically correct statement.
It's a buttery smooth experience using Quillbot. Simply copy-and-paste the content and click a button. You're ready to go with the best-researched content.

Quillbot provides a variety of writing modes, including standard, fluency, formal, simple, and creative. Assume you are writing an employment letter to your superior. You obviously want to sound formal, but you may inadvertently use some informal words.
In fact, by comparing two modes in Quillbot, you can cross-check how each mode sounds so that you can choose the most appropriate sentence. It's a win-win situation for everyone.
In such cases, Quillbot comes to your rescue by rewriting the content in a formal tone for you. Artificial intelligence is essentially providing you with fully drafted content. Isn't that cool?
Even if you wrote an essay but did not meet your teacher's word count, Quillbot has your back because it has unique features like expanding and shortening, which literally expands and shortens the desired paragraph or sentence that has been pasted.
And there's more. Quillbot is supported by Google Docs, which is a huge benefit for students and freelance writers who rely on Google Docs for school essays, writing gigs, and projects, respectively.
What is Grammarly?
Grammarly is an AI-powered tool that assists with modifying, correcting, and proofreading the desired content. It also includes useful features such as advanced genre-specific suggestions.
Grammarly can help suggest relevant words that match the tone of your content if you have written content with concise words. Yes, you heard me correctly.
Grammarly also has a tone detection feature, which allows writers to get instant feedback on how their content sounds because it takes longer to read fully.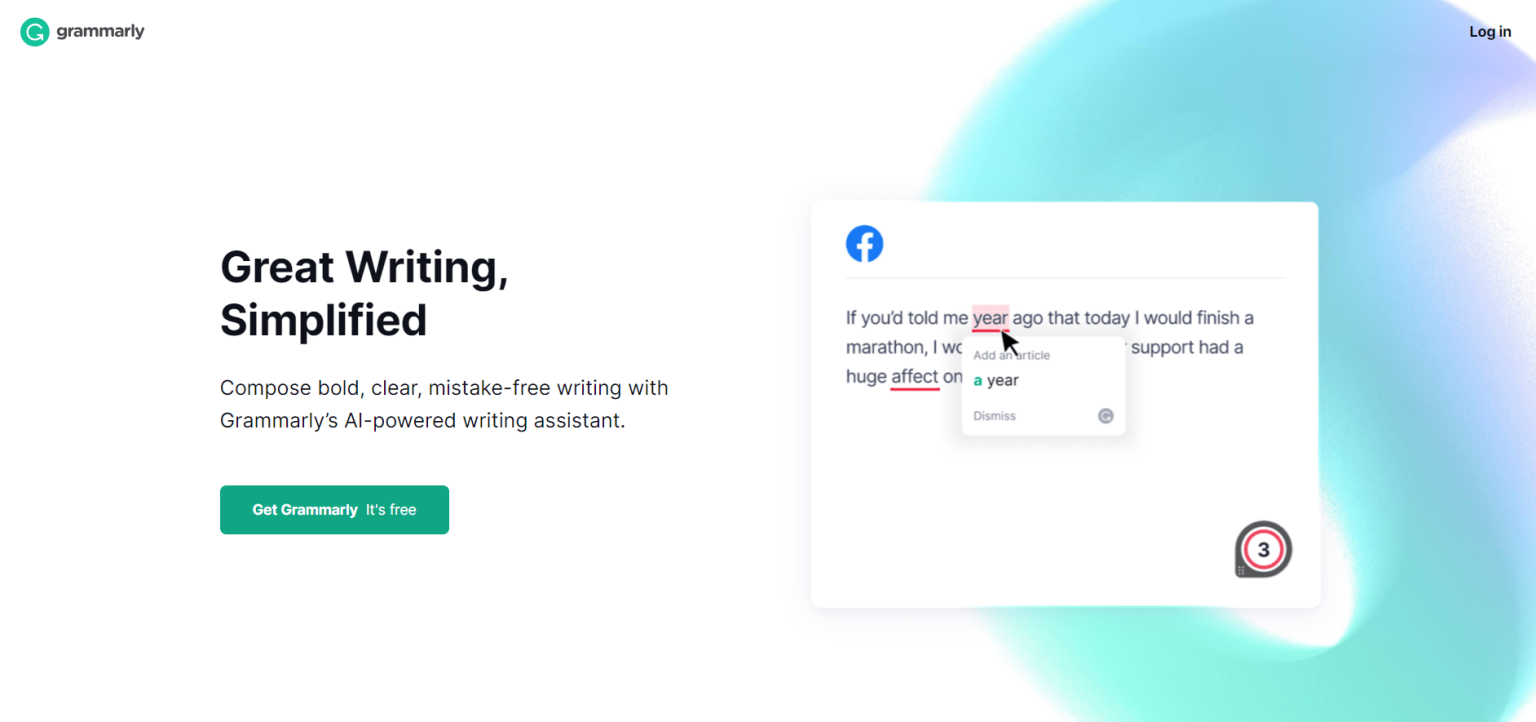 Grammarly's robust AI technology will take care of everything, including hidden errors, grammatical errors, punctuation, and even spelling mistakes.
Once you've installed Grammarly, you can kiss all of your content's errors goodbye!
Best features of Quillbot and Grammarly
Although Quillbot and Grammarly offer similar benefits, some features make each platform outstanding. Let me quickly name it down below:
Quillbot key features
Paraphrasing is one of the most talked-about features in Quillbot, and it does justice to the platform wherein any sentence that you drop in Quillbot gets paraphrased in no time.

Furthermore, the content can be transformed in different modes depending on the type of content that you are expecting to deliver. I mean, there are 7 unique modes in Quillbot.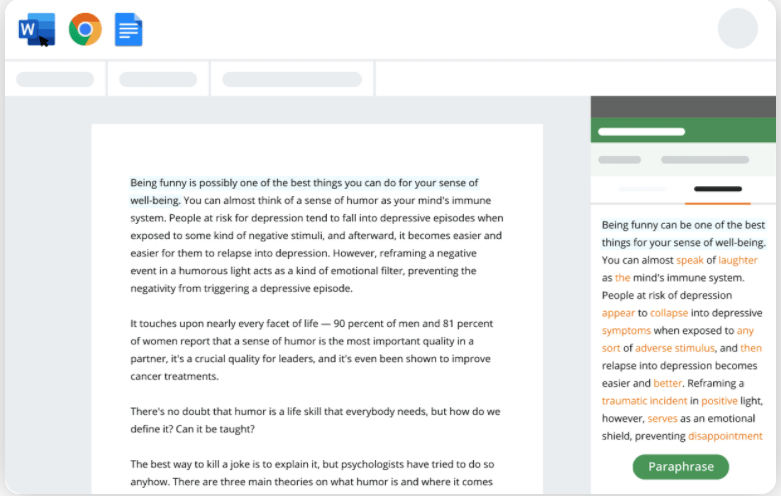 Quillbot can also help in optimizing your content for SEO purposes if you are running a business online and are desperate to bring in a generous amount of traffic.
With Quillbot, you are in safe hands because Quillbot has impeccable SEO optimization tools that will elevate your content.
Are you wondering what a summarizer tool could be? Well, as the name suggests, it literally summarizes the content and delivers a highlighted overview of what is to be read.

I was surprised because the summarizer tool in Quillbot exceeded my expectations.
One of the most anticipated features in a grammar checking tool is Thesaurus support, and Quillbot has it. The AI-powered thesaurus works like a wonder and gives the perfect synonyms.

Grammarly Key Features
Known for its powerful grammar checking effect, Grammarly can be trusted and used for all types of content regardless of the format or the genre it is based on.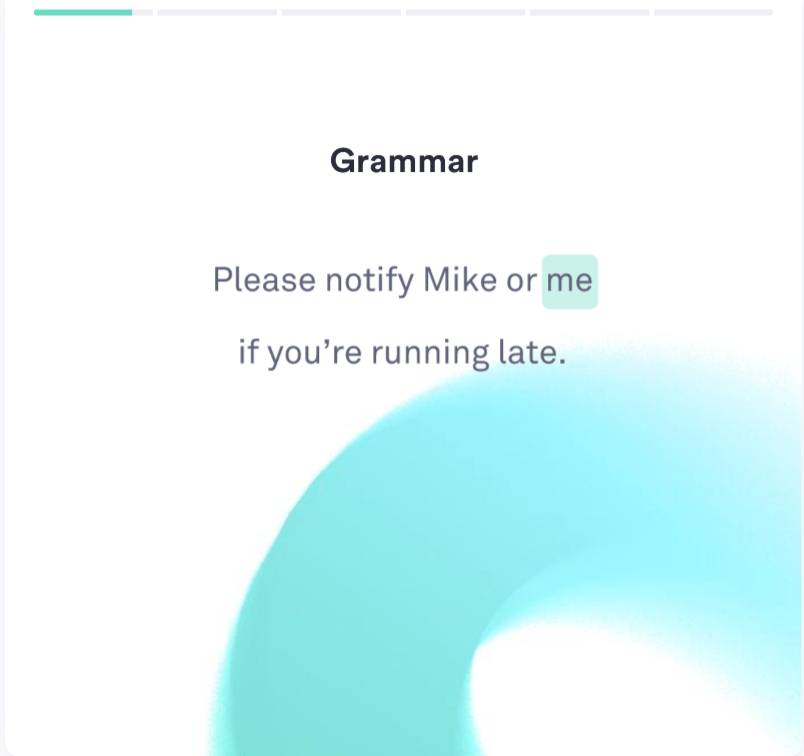 The grammar checking spots all the errors in real-time and instantly enhances the content.
Advanced genre-specific suggestions
Although you might have written the content in a specific genre, the third-party proofreader cannot grasp the genre and replace specific words.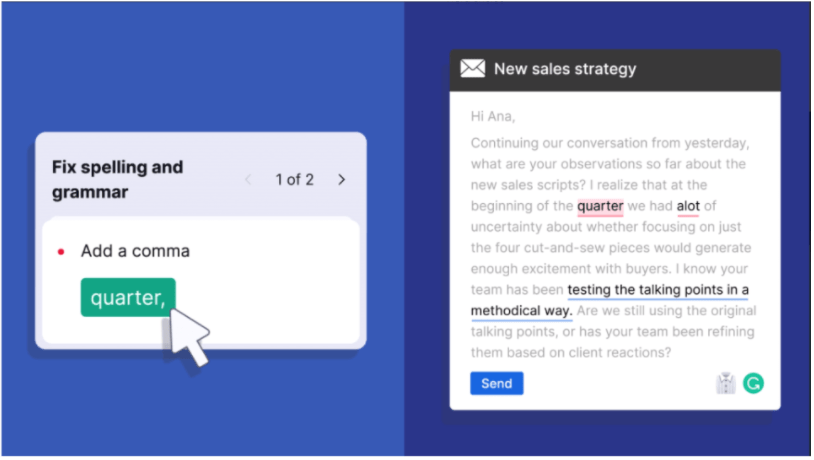 With Grammarly, you can forget all that since the advanced genre-specific suggestions perform excellently well and show accurate results.
Isn't it amazing if you could instantly get human-like feedback on how your content sounds?
Grammarly has the outstanding feature of tone detection, which can detect the tone of your content within seconds and tell you if it is formal or admiring or worrying or emotional.
Most grammar-checking software does not provide a plagiarism checker, but Grammarly had other ideas; why? Well, Grammarly has a plagiarism checker that can highlight and show if there is scraped duplicated content present in your content.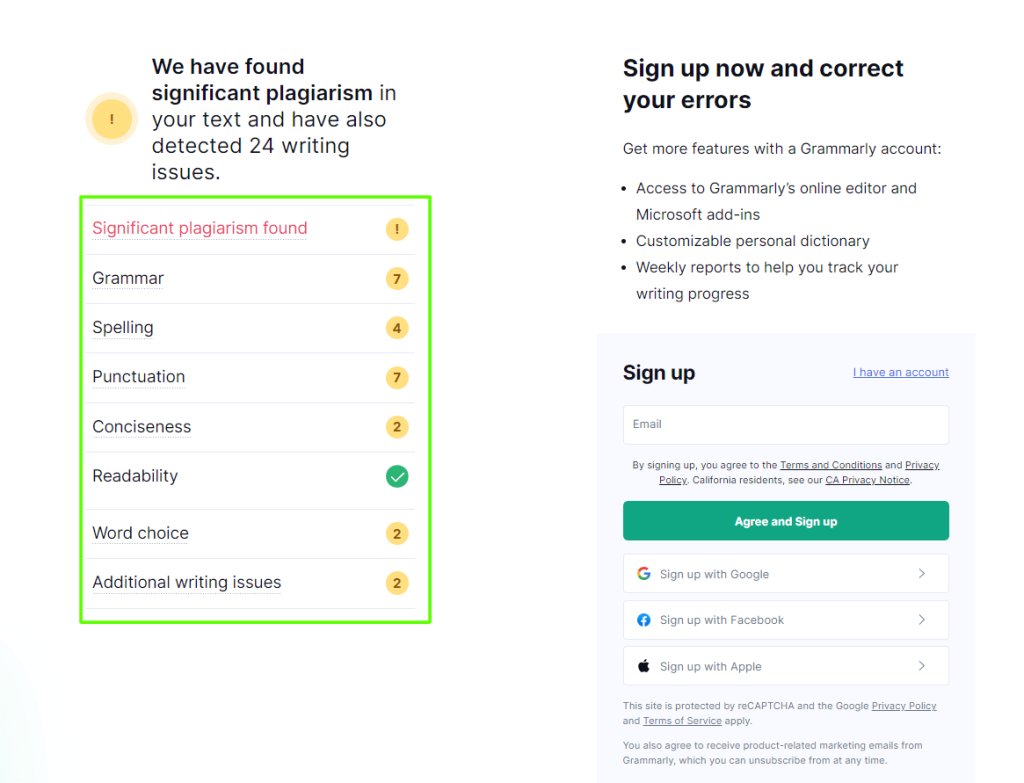 Usually, online publishers require plagiarism checkers not to get fined for the repetition of duplicated content from elsewhere. Even teachers use it to ensure that their students do not perform plagiarism on their essays and assignments.
One of the most underrated features in Grammarly is word enhancement.
Although it is not mainly a feature per se, users can enhance and improve their writing using Grammarly since the suggestions show adequate grammar tips in general.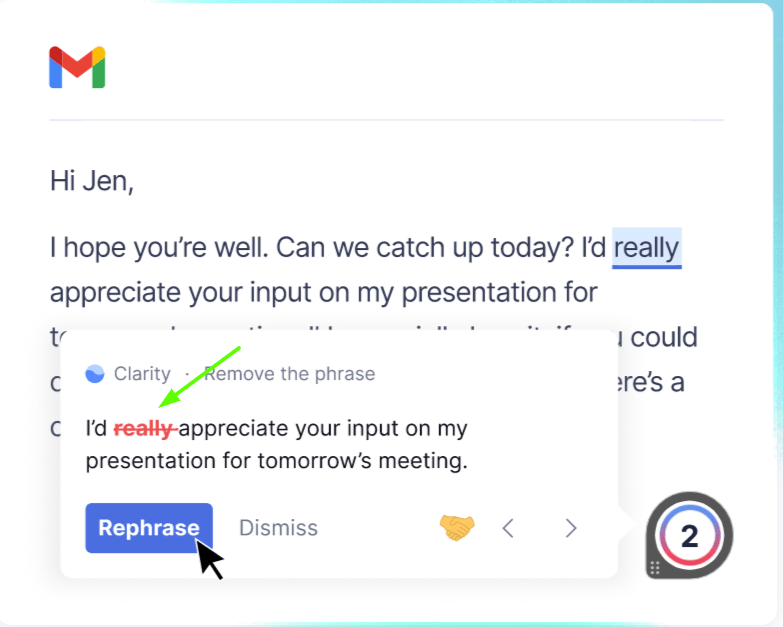 It is evident that Grammarly definitely works towards improving its users' English better.
Main Differences: Quillbot vs Grammarly
You have read about the features and what all Quillbot and Grammarly hold in store for you, but what makes Quillbot different from Grammarly? I used both Quillbot and Grammarly, so let me enlighten you with the main differences.
Grammar checking
There is no denial on the fact that Quillbot provides a grammar checking tool, but Grammarly has the best AI-powered grammar detection and does it perfectly.
I noticed that Quillbot tried its best to spot the errors, but Grammarly won.
SEO optimization tools
The most powerful feature that is absent in Grammarly but present in Quillbot is the SEO optimization tools feature which plays a significant role in optimizing your written content.
As a writer, the SEO tool in Quillbot immensely helped with the optimization process.
Paraphrasing tool
The most talked-about feature in Quillbot is extraordinary.
Although Grammarly can rephrase concise words into a new sentence with zero mistakes, the paraphrasing tool in Quillbot does it better. Additionally, you can rephrase sentences only if it is detected by Grammarly, but Quillbot allows users to do it overall.
Plagiarism checking
Like the paraphrasing tool in Quillbot, Grammarly has its competitive feature called plagiarism checker, which performs significantly well.
You can detect duplicate content in no time and instantly replace it with original content with the help of Grammarly.
Summarizer tool
A tool that minimizes the workflow and smoothens your experience would be the summarizer tool in Quillbot, which is absent in Grammarly.
Although Grammarly has other interesting tools to back up your content, the summarizer tool is an added feature that is less likely to be present in other competitors in general.
The summarizer tool allowed me to get an overview of the content I wrote. Instead of reading the entire article, I used the summarizer tool to get it done within 2 minutes.
Best Suitability of Quillbot and Grammarly
Quillbot and Grammarly can be used simultaneously for different reasons and purposes since both Quillbot and Grammarly offer different benefits and features.
Regarding the suitability of Quillbot and Grammarly, you might have to look through certain criteria and make a wise decision. Let me help you with that from my experience:
Who should use Quillbot?
Quillbot is suitable for:
Content publishers who require SEO optimization tools.
Students who demand a paraphrasing tool to write essays.
Anyone who wants to expand/shorten their content to hit the word count.
People need a summarizer to give an overview of specific content.
Who should use Grammarly?
Grammarly is suitable for:
Anyone who wants a personal AI-integrated writing assistant.
Writers, bloggers, and content marketers need effective writing tools.
Content publishers who require plagiarism checkers neglect duplicate content.
Marketing agencies that demand proofreaders and editors can use Grammarly.
Quillbot vs Grammarly (Ease of Use)
To be honest, there were not many differences in the ease of use criteria of both Quillbot and Grammarly since both are accessible via browser extensions, MS Word, and Google Docs.
Although using Quillbot after writing my content was helpful, I was able to use Grammarly in real-time while writing my content, which reduced the workflow quickly. Grammarly wins!
Tools like the summarizer in Quillbot greatly helped in giving an overview of my content, while Grammarly ensured to show the report of word enhancement with analytic results.
Since Quillbot and Grammarly come in free versions, you can use both simultaneously. I did that, and it was effective, primarily with features like tone detection and expanding/shortening tools.
Grammarly and QuillBot
At least 50% off from FlexSub
Better, flexible and cheaper subscriptions for a wide range of services in just a click of a button.
Get started now