Notion has recently made a lot of noise, and many people have switched to it. Notion is one of the most popular new document apps right now, with many people praising it.
So, what exactly is Notion?
Notion is a word processing app. It combines note-taking, documents, wiki-like knowledge base functions, to-do lists, task boards, and spreadsheets.
Consider it a combination of Google Docs, Trello, Confluence, and Evernote. With a stunningly elegant design. It makes your team more productive by centralising all of your document tools.
The Notion Pricing Plans
I always love seeing a nice, simple pricing chart that makes plan selection easy to understand: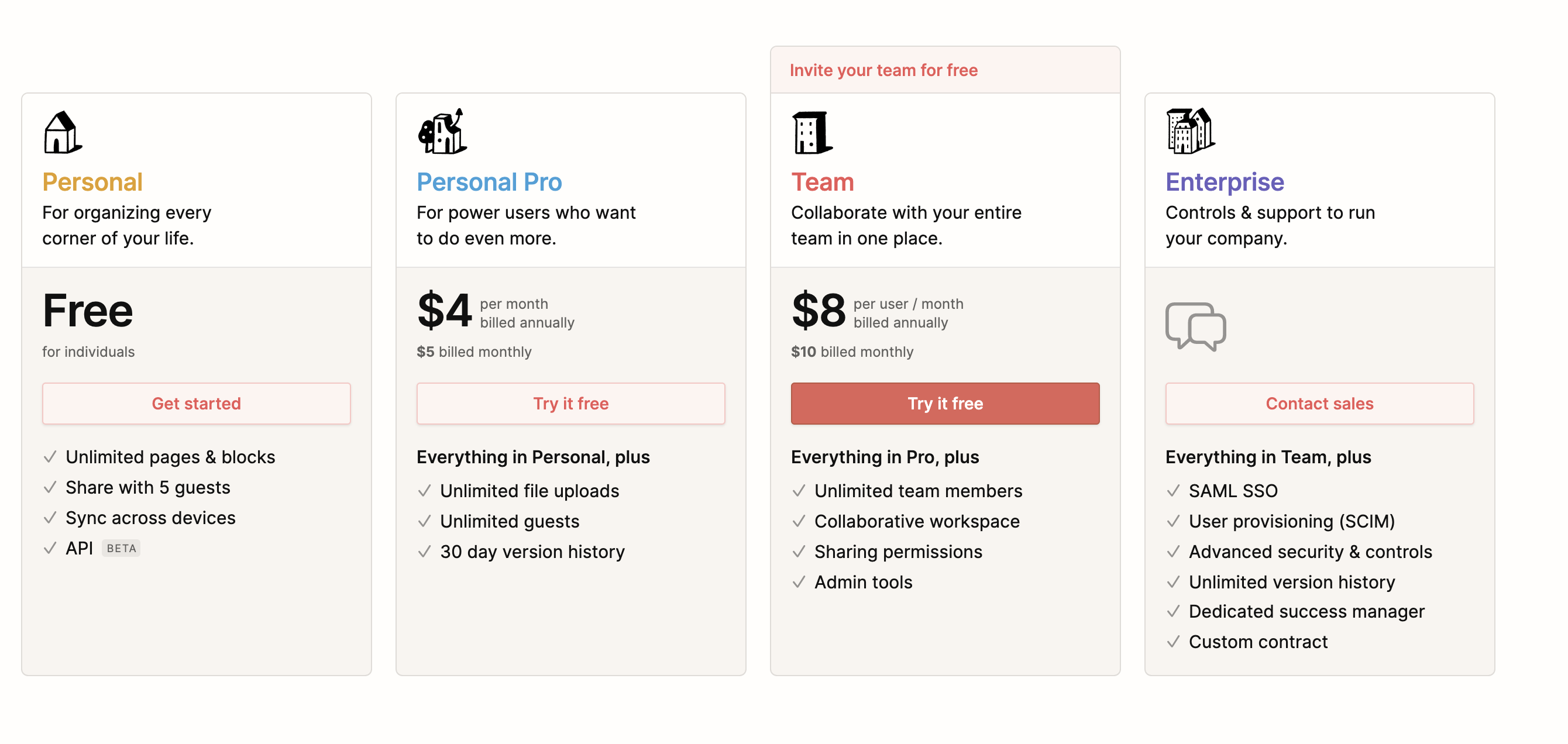 To put things even simpler:
Free: good trial plan to see if Notion is the right toolset for you. Don't plan on using it for the long term though, the plan restrictions are too limiting.
Personal: Everything you need to use Notion yourself, $4/month and no restrictions.
Team: Get your whole team using Notion for $8/user per month, same toolset as the personal plan.
Enterprise: A huge price jump to $20/user per month. The dedicated manager isn't that valuable, the tools are really easy to use as it is. And while unlimited version history is nice, it's not "an extra $12/user per month" nice. I assume they'll add more features to this plan over time.
How good is the Notion freemium plan?
To be honest, it's more of a test run than a true freemium plan.
Notion employs "blocks" to limit the amount of time freemium users can use the product before being forced to upgrade. A block can be an image, an embed, a task, or a paragraph.
In other words, once you reach 1000 paragraphs of notes, you'll be forced to upgrade unless you want to go through your notes and delete things. Anyone who takes notes even on a semi-regular basis will quickly reach the 1000 block limit. In my old Evernote account, I have a book wish list that alone exceeds this limit.
If we were only comparing freemium note-taking apps, Evernote would be the better choice. While you can use Evernote's freemium plan indefinitely (as long as you don't mind the device or upload limits), don't expect Notion to be a freemium note-taking app.
Are the Notion plans good enough for just note-taking?
Under two conditions, the $4/month Personal plan for note-taking is an excellent choice:
You don't mind paying $4 per month, so getting a freemium note-taking app isn't a must.
You prefer Notion's user interface over those of the other note-taking apps.
I believe that $4 per month is a very reasonable price for Notion. Particularly if it means getting your prefered note-taking app.
The UI of note-taking apps is usually a matter of personal preference. Which one feels the most natural to you?
Some people swear that OneNote has transformed their lives. There are still a lot of Evernote zealots around. Whatever your preference is, stick with it and don't be afraid to switch once you've found one you like.
Another thing to consider: if you know you'll be using a paid version, Notion has one of the most affordable personal plans on the market. Here's how they all compare:
Notion = $4/month
Evernote = $8/month
OneNote = Free
By far the most expensive is Evernote. Not only is Notion less expensive, but it also includes a slew of tools in addition to note-taking. OneNote is also completely free.
However, the prices are all close enough that it really comes down to personal preference. I'd recommend trying all three products and selecting the one that feels the most comfortable to you.
Are the Notion pricing plans a good value for teams?
It will come down to personal preference as to which set of tools you prefer. It costs roughly the same.
Assume I had a team of seven people at my company, including myself. How much would it cost me to acquire a standard set of document tools for my team?
All of the standard document and workflow tools are priced per user as follows:
Trello = $0/user (their freemium plan can easily support a team of 7)
Confluence = a flat $10/month for teams up to 10 people
I didn't include a note-taking app like Evernote in the preceding example because it's extremely uncommon for small teams to sign up for a document suite, a wiki, and a note-taking app. There is far too much overlap among them all. If you want Evernote on top of everything else, it's an additional $15 per user per month.
Trello and Confluence cost a total of $52 per month.
It would cost $56 per month if I replaced all of those with Notion.
There's one more thing to keep an eye out for. I'd still have to figure out how to set up all of my email accounts with Notion. Most web hosts allow you to add this to your hosting plan, but it will cost you a little more. The same is true for Microsoft Office 365, which includes Outlook and company emails in some of its plans.
Finally, there is no discernible price difference.
Instead, I'd base this decision on which set of apps you're more familiar with.
4 Steps to Decide if Notion is Right for You
When making a decision, I'd take the following steps:
How significant is freemium? If you absolutely must avoid paying for a note-taking tool, use Evernote or OneNote.
Is this intended for personal use? If so, expect to pay up to $5 per month. Then give Notion, Evernote, and OneNote a shot. Choose the one that feels the most natural to you.
Is this intended for a small group? If you enjoy Notion and intend to keep your team small, it will be an excellent fit for your entire team.
Do you adore the Notion UI? Even if you have a growing team, Notion is still a viable option as long as you enjoy the UI. This is the main differentiator between Notion and other document tools, and it may outweigh Notion's few drawbacks.
Notion
At least 50% off from FlexSub
Better, flexible and cheaper subscriptions for a wide range of services in just a click of a button.
Get started now