Semrush is one of the world's most well-known SEO and digital marketing platforms. Semrush has already been tried by 7 million people.
If you run your own SEO campaign, you know how difficult it is to track everything that goes into ranking first on Google. As a result, Semrush includes a number of SEO tools that can assist businesses in improving their search engine rankings. These tools can help you with keyword research, domain ranking, backlink analysis, tracking search engine rankings, and more.
Is Semrush, on the other hand, worth it? Are their tools among the most cutting-edge in the industry? Who should make use of Semrush? These and other questions will be addressed in this review. Continue reading our unbiased Semrush review to find out more.
Pros
With their extensive tools, they touch on a wide range of SEO factors.
Provides extensive search engine data and results.
Includes tools to help with competitor research.
Cons
Some tools, such as their social media tools, are not rated as highly.
Plans only permit one user.
Some users may find the interface and tools difficult to navigate.
Semrush Overview
Oleg Shchegolev and Dmitry Melnikov founded Semrush in 2008. Their headquarters are in Boston, Massachusetts, but they have seven offices spread across five countries.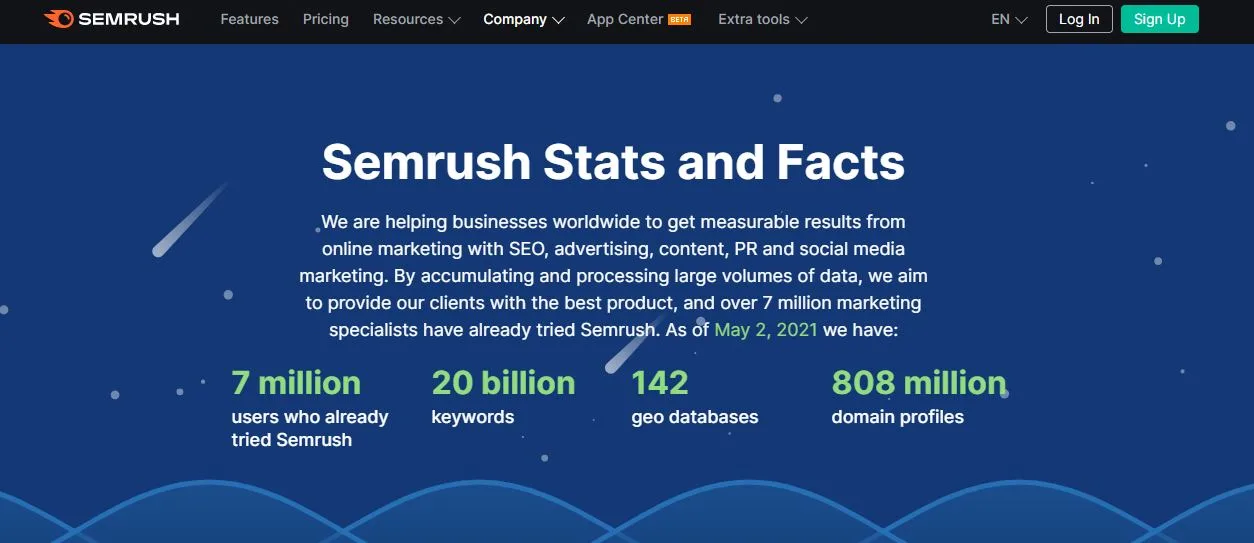 Semrush provides a plethora of tools that provide insight into your SEO performance and campaign. Businesses can use this data to identify new opportunities, create better content, and understand which technical aspects of their website are causing poor search engine performance.
Semrush is popular for a variety of reasons. They provide a number of features and tools to help you with your SEO campaign. They do, however, have a number of advantages and disadvantages that businesses should consider before signing up for their services.
The Tools You Can Use
As we've been stating in this review, Semrush is best known for its powerful SEO tools. They offer limitless tools, so we'll just break down the most used tools.
Keyword Research
Keyword research is a category of keyword tools. These tools include:
Keyword Overview
Keyword Magic
Organic Traffic Insights
Keyword Manager
These tools have a number of advantages. You'll not only know how a keyword performs in searches, but also how difficult it is to rank for them and which websites are ranking for them. These tools can also provide suggestions for keywords that are similar. These suggested keywords can also be used as secondary keywords.

Begin with the Keyword Overview tool. Simply type in a keyword. The number of searches per month, the websites that rank for it, and the keyword difficulty score will all be displayed. These rankings are also available for various countries.
These metrics, however, may be confusing if you're new to keyword research.
The monthly search volume is fairly typical — the higher the number, the more traffic a keyword receives. A keyword is considered a good keyword to use if it receives more than 100 searches per month.
The difficulty of a keyword is expressed as a percentage. This percentage ranges from 0% to 100%. Semrush categorises these percentages into three groups:
Below 60%: low difficulty.
60%: to 80%:: medium difficulty
More than 80%: high difficulty
Other metrics, such as cost-per-click, will also be displayed (CPC). If you're running a PPC keyword campaign, this will come in handy. Keyword Magic is another excellent tool for providing keyword suggestions.
The main disadvantage of Semrush's keyword tool is that it only uses Google results, not those from other search engines. Assume you want to run a Bing SEO campaign. You must use a competitor, such as Microsoft webmaster tools. Data from Ahrefs and Moz is also available for Bing and YouTube.
Analysis of Domains
Domain analysis tools evaluate your SEO performance based on your website. This is an excellent way to kick off your campaign; measure your current results and set future growth objectives.
The domain analysis tool serves another purpose as well. You can use this tool to see how well your competitors' URLs are performing. It's a simple way to conduct some excellent competitor research.
If you host backlinking campaigns, you can use the domain analysis tool to assess the SEO performance of various blogs. This will help you select only high-quality backlinks.
To use the domain analysis tool, simply paste the URL you're looking for and you'll be presented with a slew of metrics. These metrics are as follows:
Monthly visitors
Authority score
Keywords the website ranks for
Top-performing keywords
Number of backlinks pointing to the website
Anchor text(s) commonly used
Competing websites
Display advertising statistics
Price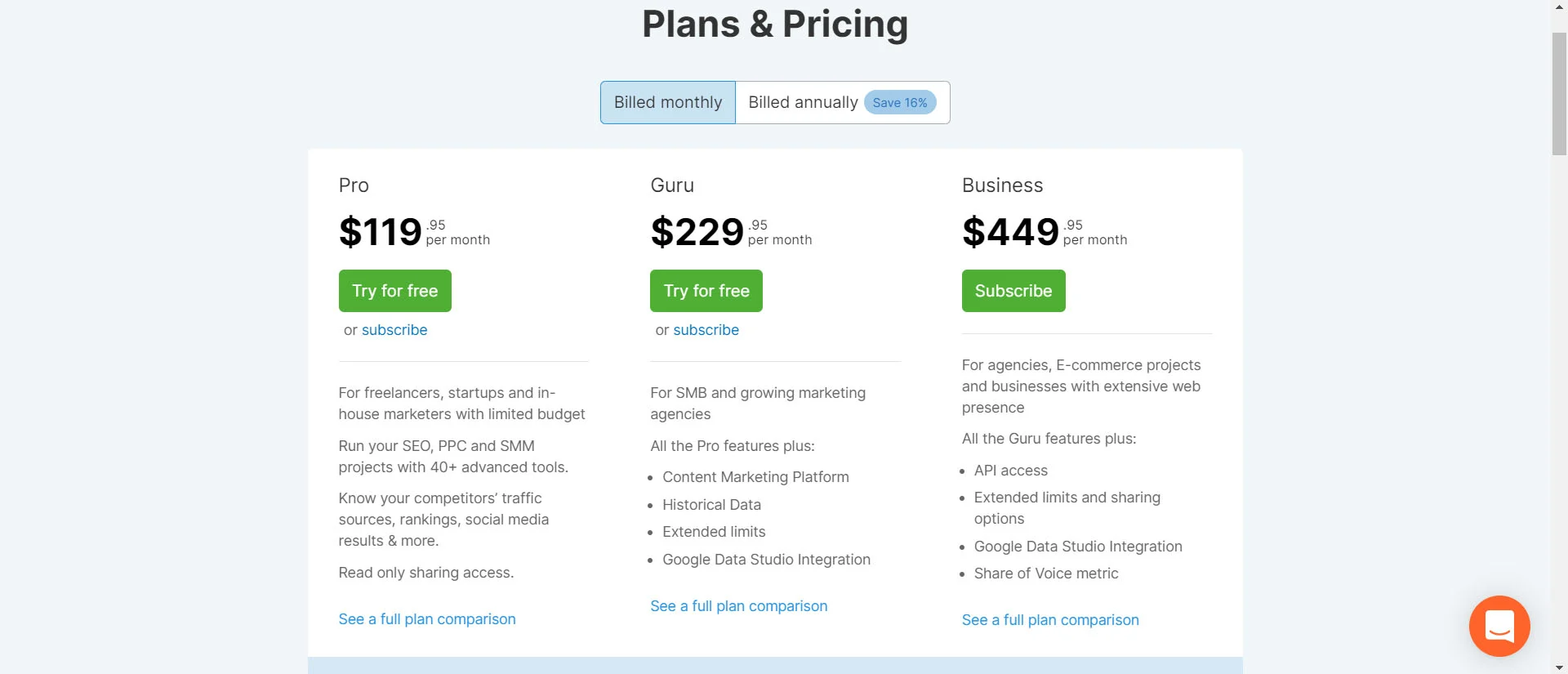 All of these tools sound amazing. However, Semrush also sounds expensive. How much should businesses expect to pay for Semrush?
Semrush offers three plans:
Pro: $119.95/month ($99.95/month when billed annually)
Guru: $229.95/month ($191.62/month when billed annually)
Business: $449.95/month ($374.95/month when billed annually)
Semrush also provides customised plans. If the offerings of these plans are insufficient for large corporations, this is an excellent option.
All of these plans differ in a variety of ways, including:
The number of keywords you can track in a month
The number of reports that can be run per day
Data from the past
Tools for content marketing
It's also worth noting that the prices only apply to one user. If you have a large digital marketing or SEO team, you will almost certainly require more users to access the programme. That is why many businesses opt for a custom plan. Some tools are also available only as an add-on.
The currency is in the form of US dollars. Semrush also provides a seven-day free trial. The main disadvantage is that you must enter your credit card information to access the free trial. If you don't like Semrush, make sure to cancel before the trial period ends.
The Final Verdict on Semrush
If you're looking for SEO software for your company, you've probably come across Semrush. Is Semrush, on the other hand, worth it? This software provides numerous advantages, including extensive tools, versatility, comprehensive data, and an easy way to research competitors and audit your website.
However, Semrush is not without flaws. For starters, they are expensive, and their plans only allow for one user (unless you sign up for a custom plan). Not all of their tools are of high quality or are required. If you're new to SEO, Semrush is also not a good option. Finally, there have been reports that Semrush isn't as trustworthy as we believe.
If you need a solution that covers all aspects of your marketing campaign, we recommend Semrush. Semrush is also popular among marketers who want to concentrate their efforts on keyword research and backlink analysis. Otherwise, we recommend that you find an alternative.
Semrush
At least 50% off from FlexSub
Better, flexible and cheaper subscriptions for a wide range of services in just a click of a button.
Get started now