Wordtune and Grammarly and ProWritingAid and QuillBot
At least 50% off from FlexSub
Subscribe Now
Your writing could reach a whole new level if you use better language! To do just that, use the AI writing and rephrasing tool Wordtune.
Writing is a significant part of my life because I'm a published author with several books under my belt and a professional freelance writer.
It's difficult to edit articles and make them easier to read, but Wordtune is a really good piece of software that makes the task simple, in contrast to other writing tools.
What Is WordTune?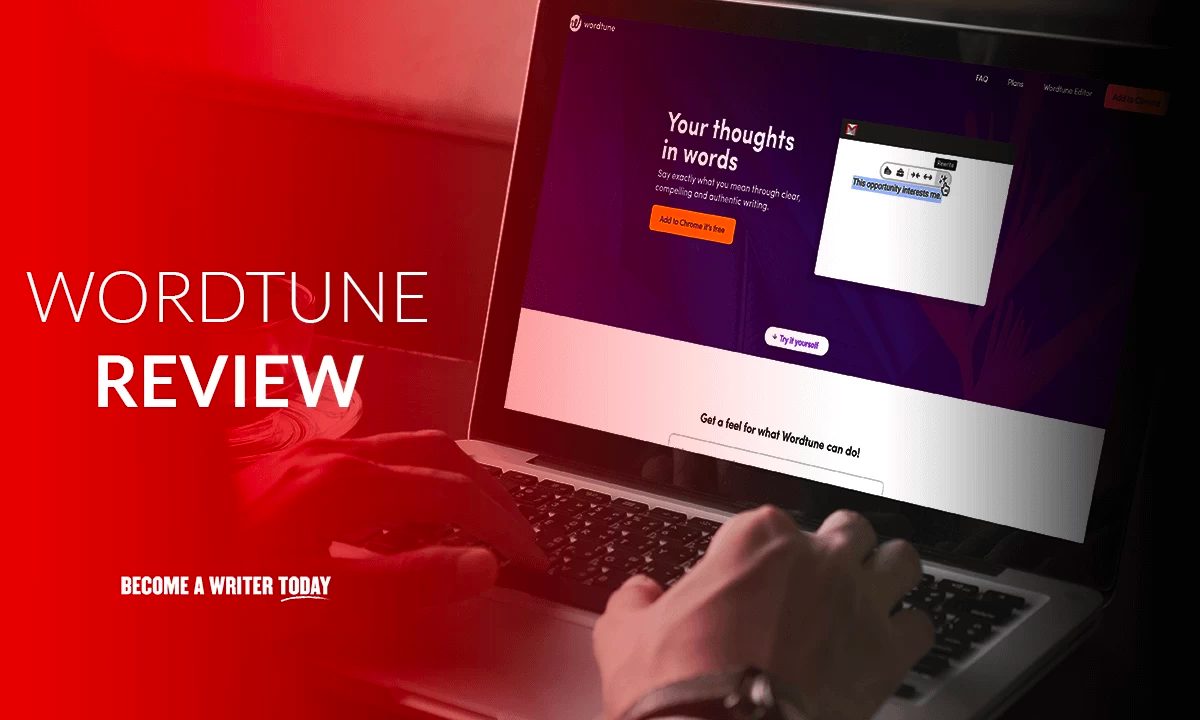 Let's explore the features that the tool has to offer. First off, it has various modes like:
Casual: This makes the sentence more informal and less serious.
Formal: This makes the text sound more corporate and professional. Great for writing to your boss.
Shortening: Shorten your sentences to fit as much as possible in the least amount of words.
Expanding: Helpful when you want to express a thought in the most complete and lengthy way without making it feel unnecessary and fluffed.
Rephrasing: Suggests better words and variations of the same sentence.
Apart from a browser extension, Wordtune also has an editor where you can use the tool, which is quite similar to Grammarly.
Let's compare Wordtune to Grammarly now that we've highlighted this extremely well-liked writing product.
Apart from rephrasing sentences, Grammarly is an editing and rewriting tool that also contains a number of other functions like sentence shortening, grammatical checks, synonyms, tone recognition, and plagiarism checks.
It is an entire set of writing tools, whereas Wordtune was created just to rework sentences. It has no additional features or benefits.
Additionally, Grammarly has been around for a while and is much more widely used and popular than Wordtune.
Returning to Wordtune, some other capabilities include its online editor and its amazing ability to translate and rewrite sentences from sentences in 9 different languages into English.
---
Onboarding Process
The onboarding process with Wordtune is straightforward.
First, you need to install the extension for your respective browser like Chrome, Edge, etc.
Secondly, you'll be prompted to sign up for a free account. You can do so with Google, Facebook, or E-Mail login.
Next, you'll be asked to answer a short round of questions, and they'll show you how to use the tool.
Then, you can just open the website where you write like Docs, Office, Word, LinkedIn, etc., and other platforms that use Wordtune whenever you want!
---
Ease Of Use
Wordtune is very simple to use, and because it supports several widely used platforms, you can rely on it to be available whenever you need it.
I only needed five minutes to get Wordtune up and running as a new user. Simply choose the text, click the Wordtune logo that appears, and then choose one of the numerous re-write alternatives.
One of the best things about Wordtune is that it isn't as distracting as Grammarly and other writing tools.
The fact that the text may be automatically rewritten using a keyboard shortcut is another fantastic feature. This is very helpful because choosing and clicking buttons to carry out functions is tiresome and takes a very long time.
You may utilise the online editor on Wordtune as well. The editor's user interface is excellent as well. It is quite sophisticated and simple to use thanks to the tools on the top.

---
Re-Phrasing Capabilities Of The Tool
I wrote a few sentences and rewrote them with Wordtune. Here are the results:
Original Sentence: I have been featured on some of the biggest websites in the world
New Sentence: It has been my honor to be featured on some of the most prestigious websites on the web
Original Sentence: How about we schedule this meeting for tomorrow morning?
New Sentence: Would it be OK if we met tomorrow morning?
Original Sentence: I must say that your work is really good and I appreciate it
New Sentence: As far as your work is concerned, I really appreciate your efforts
---
Pricing And Value For Money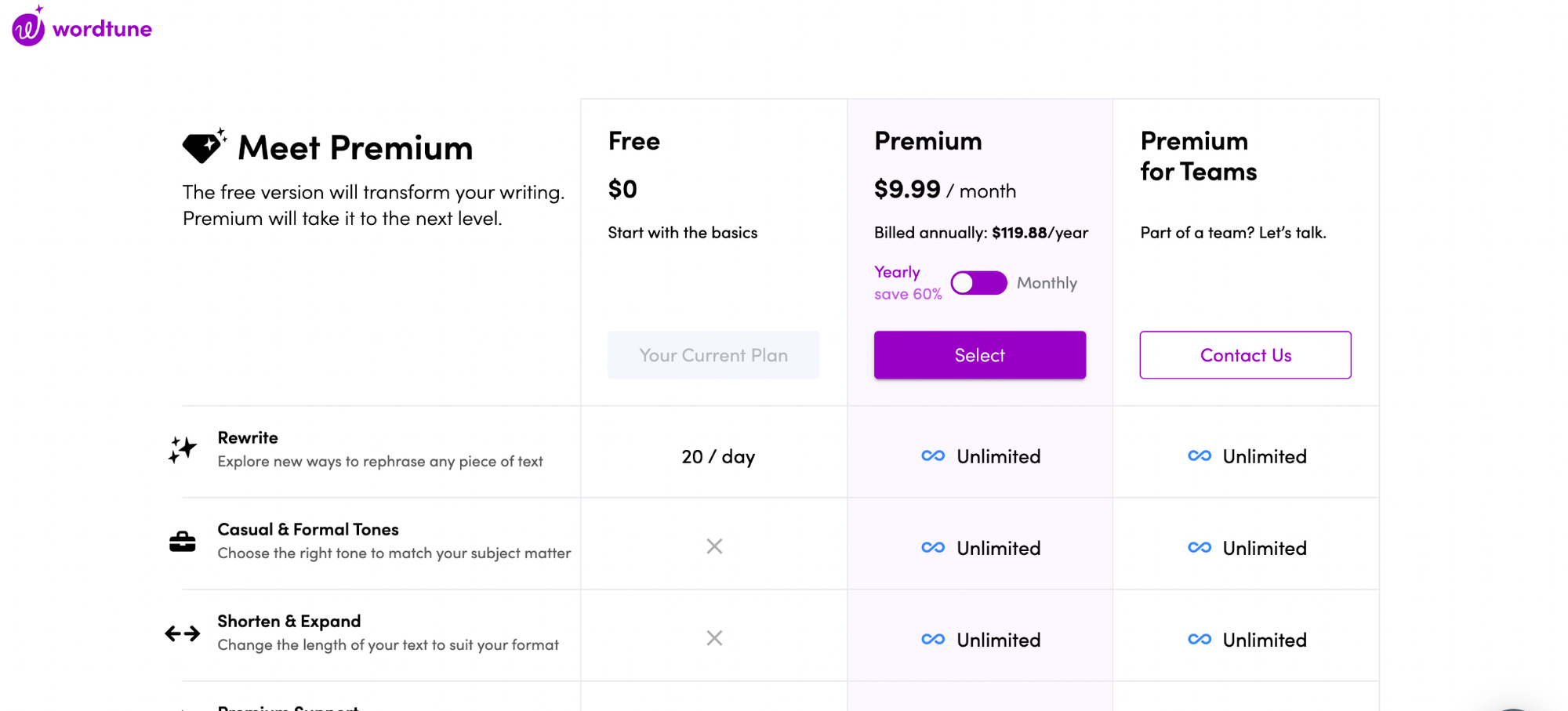 There is a free version accessible, and paid plans begin at $9.99 per month for an annual plan and $24.99 per month for a monthly subscription.
Although the monthly price is high, the annual price is relatively reasonable.
Rephrasing and other crucial writing duties like grammar detection are included in other writing assistance software like Grammarly, which are around half as expensive. With Wordtune, the AI Rephrasing is unquestionably superior.
Whether you want to pay for a single AI rewriting feature or would prefer a less expensive programme with additional writing tools at the expense of the re-writing quality is a matter of personal preference!
However, based on Wordtune's cost, it wouldn't be incorrect to state that it offers good value for money and will ultimately pay off for professionals.
A free version is also available. But I believe it is overly restrictive. For instance, twenty modifications might not be sufficient if you write frequently, as I do every day. You would therefore need to take into account the paid pricing. Additionally, the free plan does not have the range of tones or the shortening or expanding options available in the paid subscriptions.
But for occasional writers, it ought to be sufficient.
---
Alternatives To Wordtune
Grammarly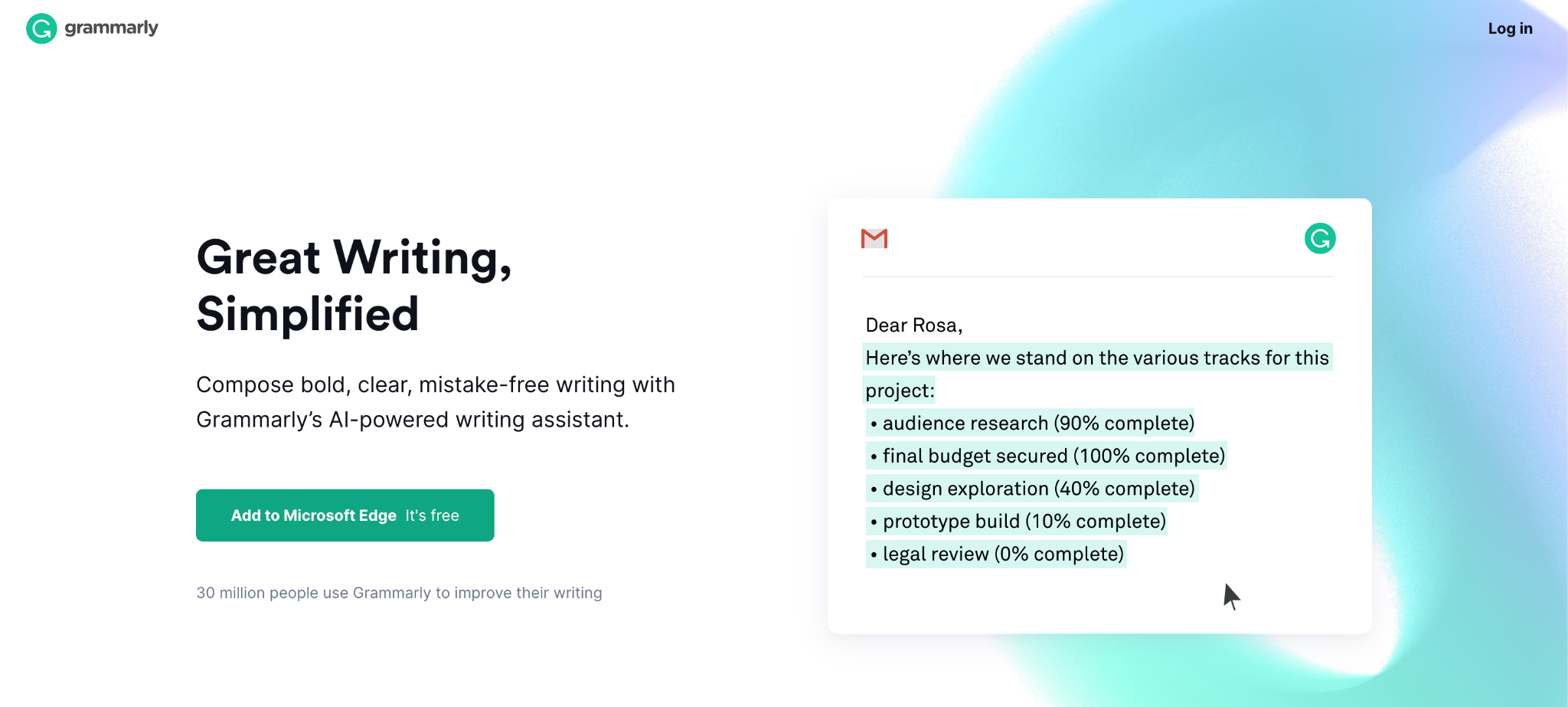 Grammarly is a fantastic grammar checking and rewriting programme with terrific added capabilities, as I've already mentioned in this piece. It has its own desktop applications for Windows and Mac and is supported on even more platforms than Wordtune.
QuillBot
This is another really sophisticated tool for paraphrasing with additional capabilities like synonyms and vocabulary improvements to raise the calibre of words. Other tools like a grammar checker, summarizer, citation generator, etc. are also included.
ProWritingAid
This is a similarly well-liked writing programme featuring grammar improvements, synonyms, quizzes, and evaluations on your writing, much like Grammarly.
Wordtune and Grammarly and ProWritingAid and QuillBot
At least 50% off from FlexSub
Better, flexible and cheaper subscriptions for a wide range of services in just a click of a button.
Get started now