Seeking Alpha and Barrons and Finacial Times
At least 50% off from FlexSub
Subscribe Now
SeekingAlpha.com promotes themselves as "the world's largest investing community powered by the wisdom and diversity of crowdsourcing."
Since their launch in 2004 they have become one of the most popular stock research sites, with over 20 million visits per month.
Like most sites, some of their information is available for free; but the valuable information is only available to paid or Premium users.  For example, one premium feature is their "Quant Rating" which since 2010 has identified stocks that have returned 4x the SP 500.
So is Seeking Alpha worth it?
If you want to buy stocks that are mostly likely to outperform the market, and avoid those stocks that are likely to underperform, then YES it is definitely worth it.  Keep reading and I will tell you what you need to know about Seeking Alpha.
A Quick Intro To SeekingAlpha.com
The Seeking Alpha platform is powered by user-generated information, ideas, research, analysis, and opinions.
This means that their users contribute their ideas and research on US stocks, ETFs, mutual funds, commodities, and cryptocurrencies. But this isn't just a "message board." Their posts are more like well-thought-out research reports that are then reviewed by the Seeking Alpha editorial staff to ensure quality.
They employ over 7,000 people and publish 10,000 stock opinions each month. But don't worry, the Seeking Alpha team carefully vets its authors to ensure that they are credible and have no conflicts of interest with the stocks they discuss.
Seeking Alpha offers a variety of stock ratings in addition to all of their contributed stock research. A Quantitative Analysis Rating, a Seeking Alpha Author Rating, and a Wall Street Rating are among these ratings. These ratings have been shown to be useful in predicting future performance. But here's the rub. Free members can access the Wall Street Ratings, but Premium members can only access the Quant and Author Ratings.
Power of the Seeking Alpha Quant Rating
This single graph says it all. This is a backtest of $10,000 invested in Very Bullish Quant rated stocks from January 1, 2010 to January 1, 2021. If $10,000 had been invested in the SP500 in 2010, it would have grown to $178,592, compared to only $42,345 if it had been invested in the SP500 in 2010.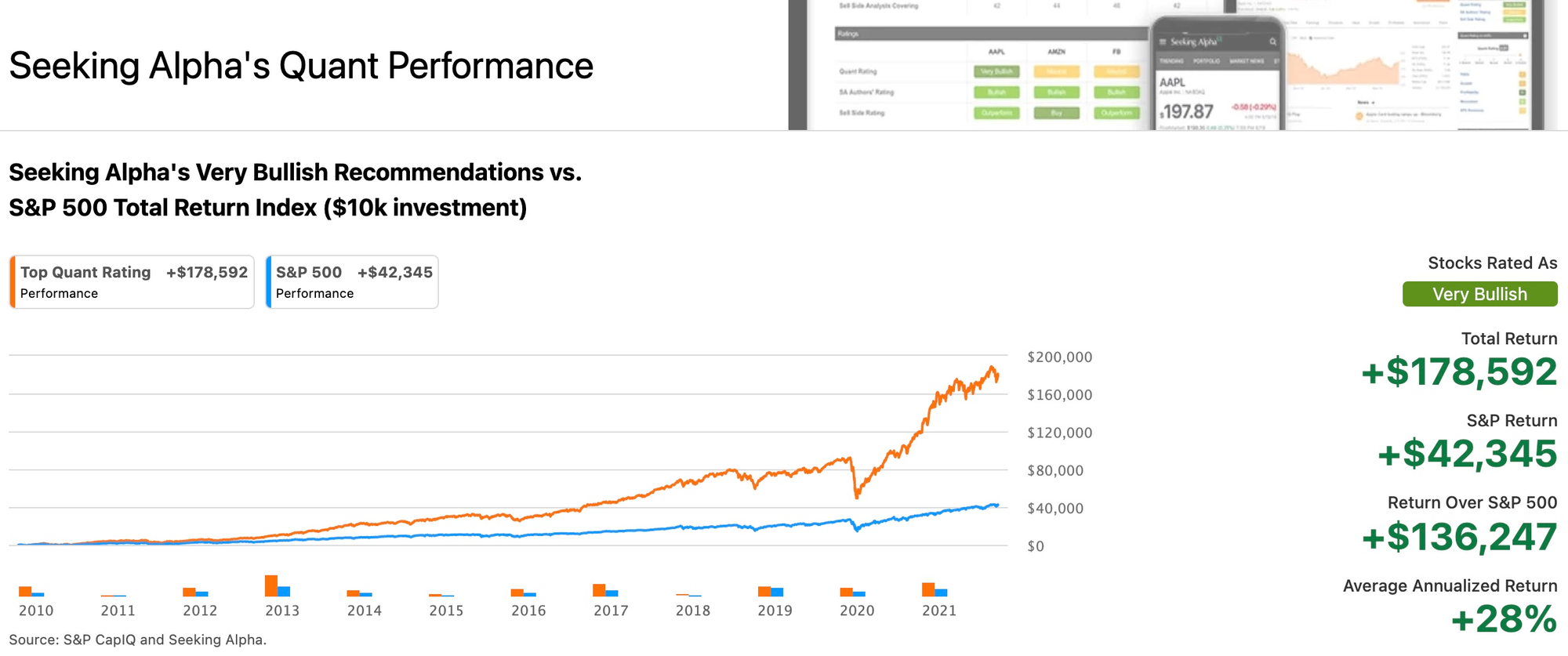 Conversely, investing in the Very BEARish stocks would have done this from 2010 to 2021.  These stocks would have only returned 120% versus the SP 426%.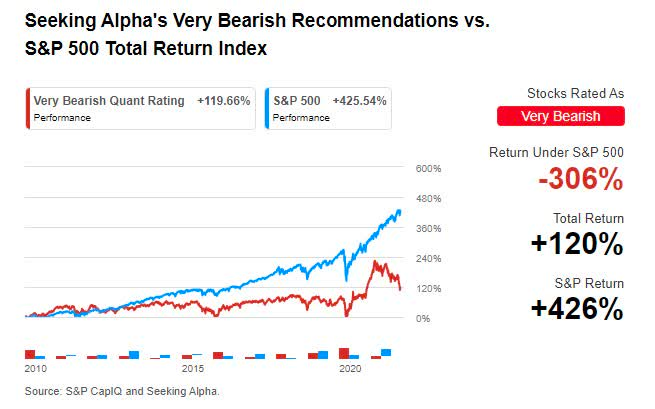 So the answer is to only buy VERY  BULLISH stocks and avoid stocks rated VERY BEARISH.
It is that simple and takes the stress out of managing your own portfolio.
Membership Levels
Seeking Alpha allows you to become a "Basic" user for free, but they also offer a "Premium" subscription for users who want to take advantage of the platform's tools and graphics.
The pricing is a little perplexing: Premium is $29.99 per month if you pay month to month. If you prepay the year, which is refundable, you will pay $239.88 (bringing your monthly cost down to $19.99). You can also prepay for three years for $540, bringing your monthly cost down to $14.99. So, if you prepay for at least one year, they will refund your pro-rata amount if you cancel.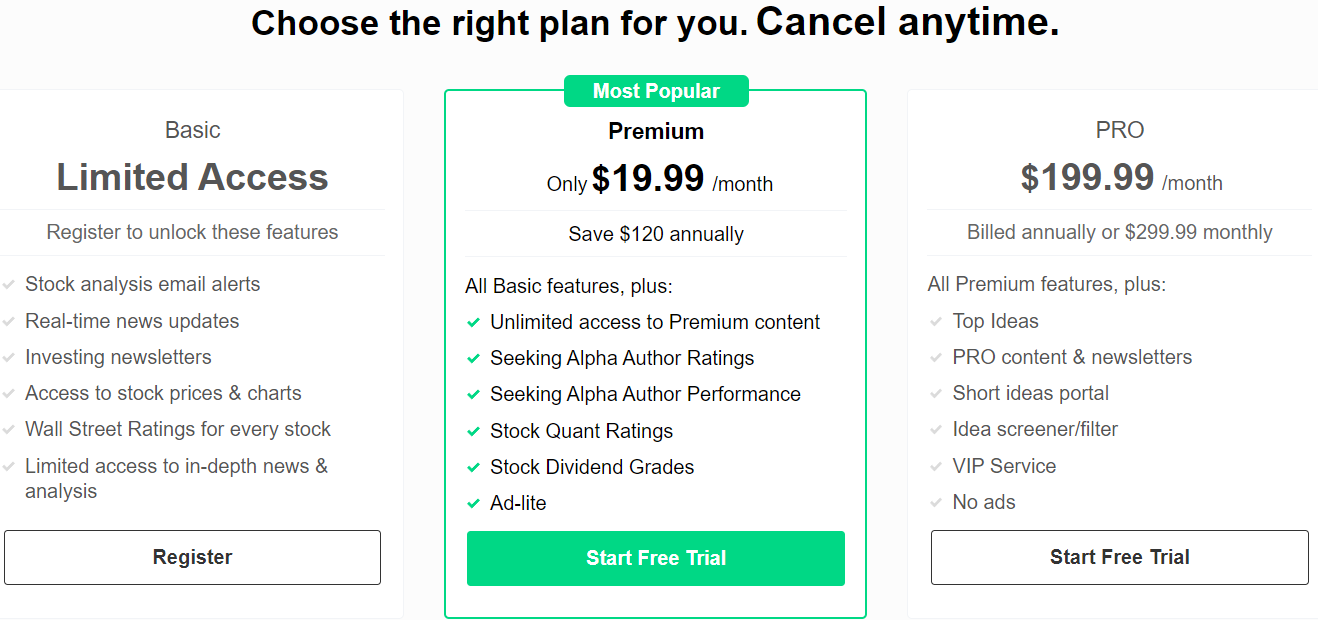 So, the question we're here to answer today is…
…Is Seeking Alpha Premium worth the money?
What Is Seeking Alpha Premium?
Seeking Alpha Premium is essentially the "upgraded" version of the platform's Basic membership.
You get access to lots of features you don't get with a basic plan, plus extra capabilities on other features.
Let's go ahead and talk about some of the differences between the Basic membership and the Premium Subscription.
Here are the features included with the Basic plan:
Follow authors and get new articles from them
Receive up to 15 newsletters by email
Read and post Blogs
Read, post, and track comments
See some Quant Ratings and underlying metrics
Review 5 years of financial statements
Compare 5 stocks at once
Sync your stock broker portfolio
Build and manage a portfolio of stocks or ETFs
Receive stock news and analysis email alerts
Receive earnings and transcripts email alerts
Read personalized news and articles
See the earnings calendar to know when your stocks report
The Basic plan is absolutely free. All you have to do is sign up for an account!
And if you sign up for a Premium subscription, you get access to the following:
Everything included in the Basic plan
See ALL Quant Ratings and underlying metrics
View Seeking Alpha author stock ratings
View Seeking Alpha author ratings performance
Get alerts on upgrades and downgrades on your portfolio
Less ads
Access all Premium investing ideas
Listen to earnings and conference call recordings
Screen for Top Rated Stocks with ratings screener
Access all stock earnings transcripts
Track each investing idea's performance
View article sidebar: stock chart, key data, ratings
See stock dividend and earnings forecasts
Access Dividend Grades for each dividend stock
Review 10 years of financial statements
Compare 7 stocks at once
See the EPS Revisions Grade in the earnings calendar
The Premium subscription is an absolute must if you want to maximize the return of your portfolio and beat the SP500.  At only $239 a year when you prepay for 12 months (as opposed to paying $30 month by month), the Premium plan is simply the best value for your buck.  Plus, you can get a two-week trial of Seeking Alpha Premium, absolutely free!
Is Seeking Alpha Worth the Money?
If you use Seeking Alpha correctly, it is well worth the money. Stocks with a Quant Rating of "Very Bullish" outperformed the S&P 500 by 1,754 percent to 385 percent, while stocks with a Quant Rating of "Very Bearish" underperformed miserably. Buy only "Very Bullish" stocks and avoid all "Very Bearish" stocks!
So, in order to convince you that Premium is a worthwhile investment, we've compiled a list of the top five reasons why we believe you should go Premium.
#1: Top Rated Stocks Screener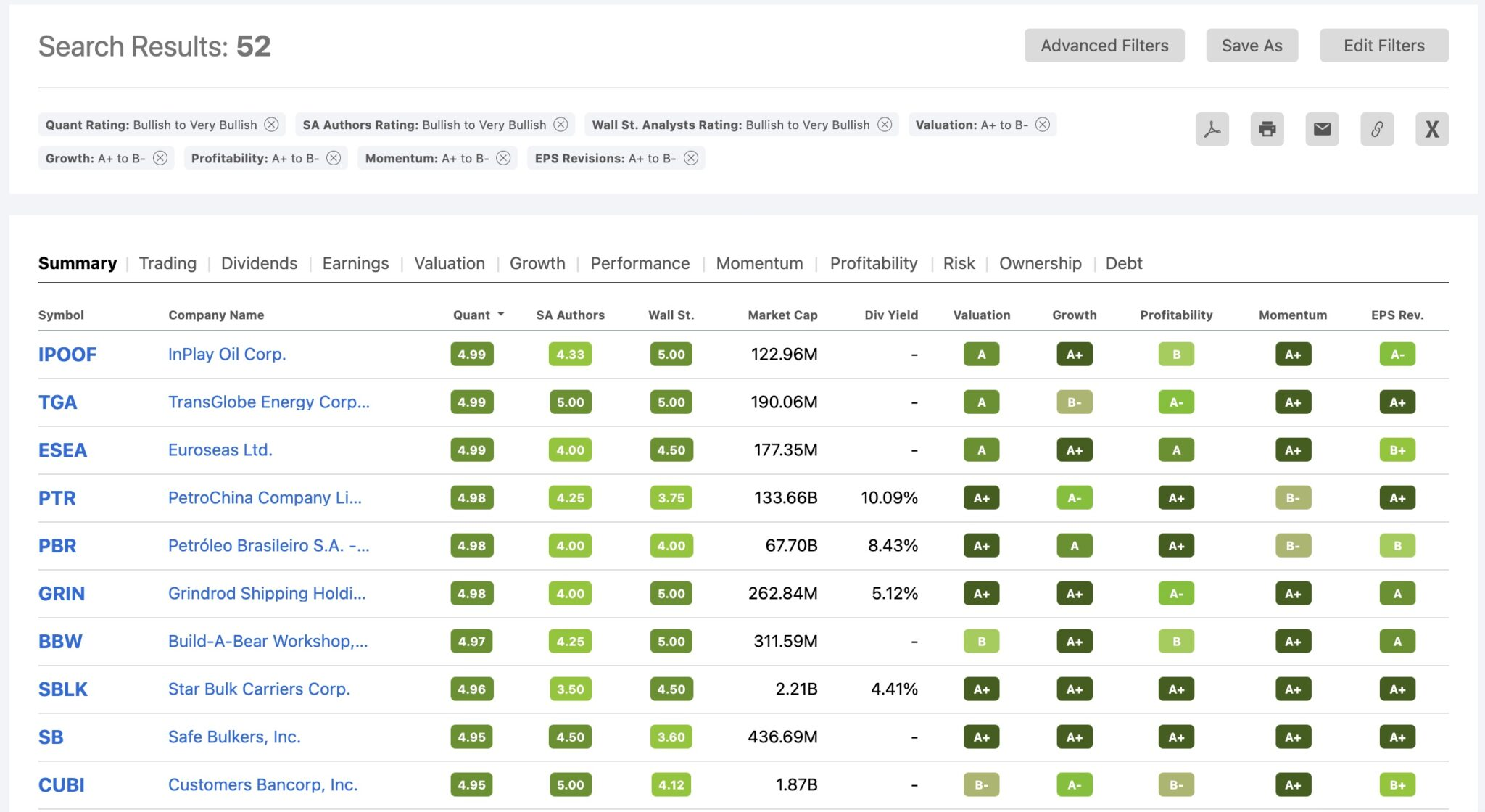 The Top Rated Stocks screener is a Premium-only tool that finds the most promising stocks by applying filters for the best quant ratings, Seeking Alpha author ratings, Wall Street analyst ratings, and several factor ratings.
When you use the Top Rated Stocks screener, you get stock evaluations from three different perspectives, each with their own motivations and methods.
Seeking Alpha authors are independent investors who spend hours poring over news and financial statements to get a good read on a stock's fundamentals.
Wall Street analysts are financial professionals with access to expensive tools and research that allow them to create detailed financial models, such as discounted cash flow (DCF) models, that can provide a good estimate of a company's valuation.
The quant, or quantitative analysis, system is a stock evaluation system that is completely automated by computer algorithms.
When a stock is rated highly by all three of these sources, it will appear on the Top Rated Stocks screener, allowing you to be confident in the stocks on the list!
#2: Earnings Call Transcripts and Audio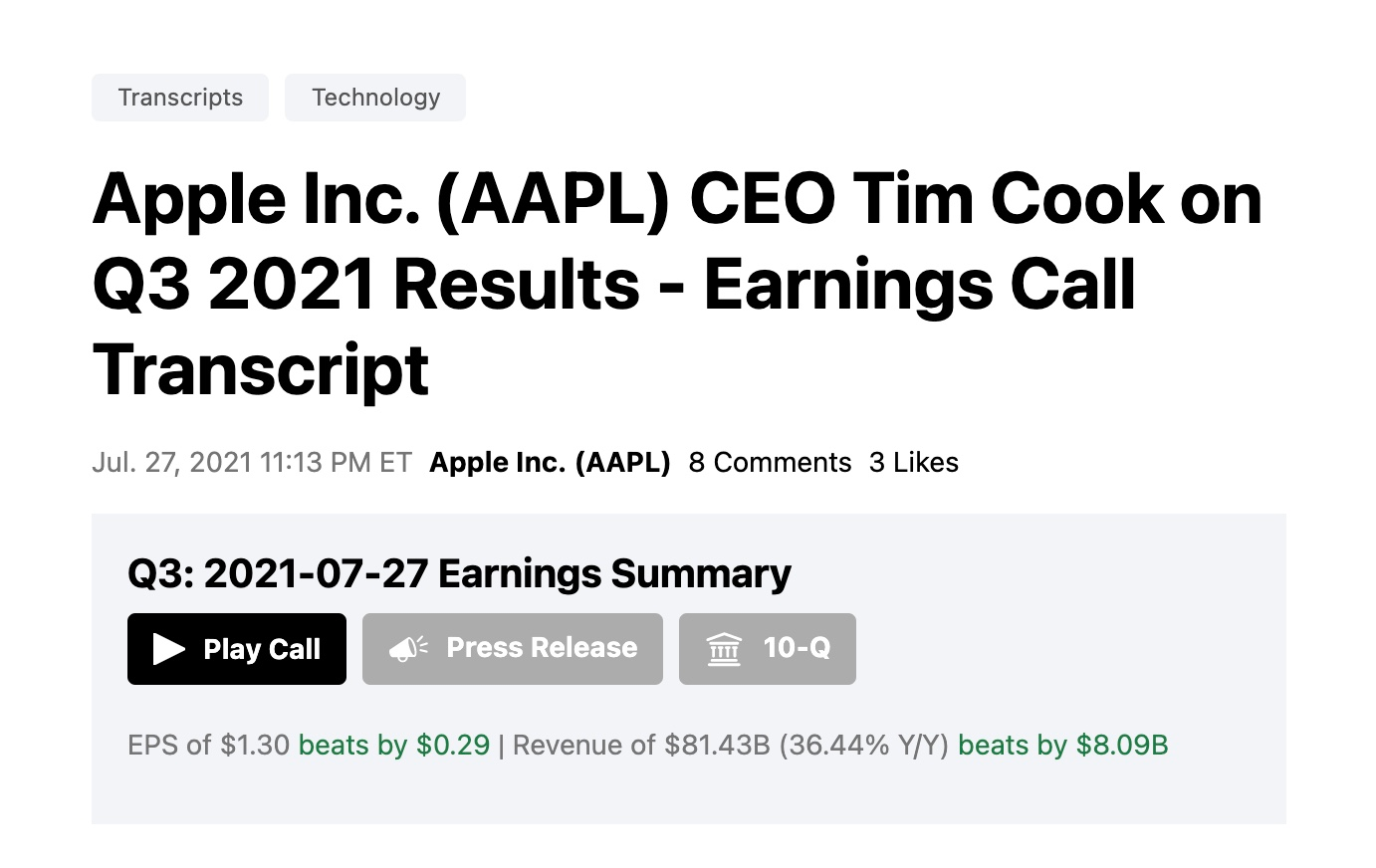 With a Seeking Alpha Premium subscription, you can read transcripts and listen to audio recordings of earnings and conference calls for stocks that aren't covered elsewhere.
Earnings calls allow us to see if there were any surprises by comparing the previous quarter's earnings to what was expected.
We can also use earnings forecast data to make educated guesses about whether a stock's price will rise or fall.
#3: Dividend Grades

Seeking Alpha has developed its own unique dividend grading system to assist you in determining the strength, growth, and dependability of a stock's dividend.
Dividend Grades assign a score to each of a company's dividend safety, growth, yield, and consistency.
If you want to diversify your portfolio with a big-name, dividend-paying company, or if you want to pursue an income investing strategy, Seeking Alpha's dividend grades can help.
#4: Quant Ratings and Metrics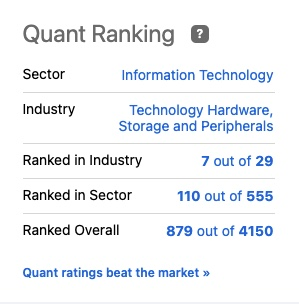 Seeking Alpha's quant system has a proven track record of outperforming the market, making it an invaluable tool for determining which stocks to invest in.
With a Premium subscription, you can view all quant ratings and the underlying metrics that determine which stocks receive quant ratings.
If you have a specific investing strategy in mind and want to get to the bottom of a stock's quant rating, this level of detail is extremely useful.
#5: Stock Comparison
Assume you want to add an emerging tech stock to your portfolio but are unsure which one to choose.
Seeking Alpha allows you to compare stocks side by side to determine which stock is the best based on whatever criteria are important to you.
With Seeking Alpha premium, you can compare up to seven different stocks at once!
Final Thoughts
Those are just five of our MANY reasons to sign up for Seeking Alpha Premium. If you're looking for more, read our full Seeking Alpha review here!
Seeking Alpha and Barrons and Finacial Times
At least 50% off from FlexSub
Better, flexible and cheaper subscriptions for a wide range of services in just a click of a button.
Get started now